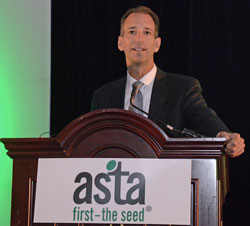 American Seed Trade Association Chairman, Mike Gumina, Pioneer Hi-Bred, welcomed everyone to this morning's general session at the ASTA convention. I visited with him to find out to learn more about ASTA and what to expect at this year's meeting. Mike says ASTA is a broad based organization representing over 700 companies. "We like to say everything from alfalfa to zucchini." He says that ASTA deals with four main areas that include intellectual property rights; state & local issues; federal issues and the international realm.
Mike provided me with an overview of this year's convention. About 100 ASTA members participated in yesterday's Storm the Hill Day to tell the seed industry story. After listening to Sec. Vilsack's presentation this morning there will be discussions on each of the different areas (state/federal/international issues). Then he says we'll get into how ASTA will deal with these policies through the organization's different divisions.
Looking back over the last year Mike says ASTA has been very successful. He notes one issue which is "how do we transition patented biotech traits into a generic mode." He says they've made good progress on this complex issue. Another area is the issue of "co-existence." The co-existence of biotech and organic which has long been an issue. Learn more about ASTA by listening in on our conversation.
Listen to my interview with Mike Gumina here: Interview with Mike Gumina