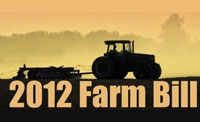 The number of proposed amendments to the Senate farm bill shrank from nearly 300 to 73 yesterday as senators struck a deal to get debate back on track.
"This is not a great agreement, but it's a good agreement," said Senate Majority Leader Harry Reid (D-NV) announcing the deal late last night.
The good news is that the "rotten egg amendment" offered by Sen. Feinstein (D-CA) did not make the cut. Sen. DeMint's (R-SC) amendment that would make mandatory checkoff programs voluntary is on the list, along with Sen. Johanns (R-NE) measure that would stop EPA from making aerial inspections of agricultural operations. Other important amendments to be considered concern crop insurance, the dairy program, energy title, Market Access Program, payment limitations, food assistance programs, conservation and broadband funding.
Votes on the chosen amendments are expected to start this afternoon.