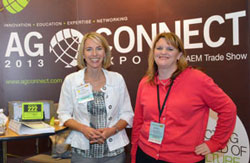 AG CONNECT Expo & Summit 2013 will be held January 29-31, 2013 in Kansas City, Missouri at the Kansas City Convention Center and we got a little preview of this upcoming event during the National Agri-Marketing Association conference, also in Kansas City just a month or so ago.
I talked with AG CONNECT show director Sara Mooney about what will be new at this third AG CONNECT expo. "It's going to be bigger and better," she said. "The exhibit hall is the largest and we've already set a record to be our biggest event and growing. We have a number of new co-located events, including the U.S. Custom Harvesters annual convention and the National Farmers Organization. We'll have new content, new information and new speakers, so it's pretty exciting."
Sara says there are still limited exhibitor spaces available, with information about that on the website agconnect.com, and they will be opening registration in September for attendees. Lots of information about the show will be coming out through Brownfield Ag News, which is the official radio partner of AG CONNECT 2013.
Listen to my interview with Sara here: AG CONNECT's Sara Mooney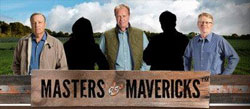 AG CONNECT is generating excitement for the event through an interactive social media campaign featuring "Masters and Mavericks" of agriculture. The program kicked off in early May by revealing the identities of the five Masters & Mavericks who are featured in the show's marketing campaign. Clues are being released via Facebook and Twitter, with one producer revealed each week ending on June 8. If you can correctly identify one of the Masters & Mavericks, you could win a $150 Visa gift card. The most recent producer revealed was Kip Tom of Tom Farms LLC in Leesburg, Indiana – who also happens to be one of our BASF Great Growers.
Starting June 11, the Masters & Mavericks program will be open to all ag professionals – farmers and ranchers, dealers, manufacturers, education program speakers, ag media and other agribusiness professionals. Participants will receive free admission to AG CONNECT 2013 on Wednesday, January 30 and Thursday, January 31.