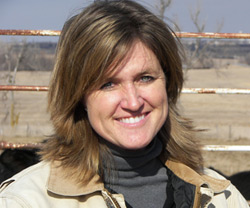 Debbie Lyons-Blythe, White City, Kansas, is Monsanto's America's Farmers Mom of the Year 2012.
Lyons-Blythe was nominated by her children (Meghan, Allie, Trenton, Tyler and Eric), and also by her aunt, Mary Ferguson, who she describes as "more of a friend than an aunt." Both nominations summarized in 300 words what makes Lyons-Blythe so special to her family, farm, community and the agricultural industry.
Debbie and her family run Blythe Angus, near White City where her husband Duane's family homesteaded in 1890. They raise 250 registered Angus cows and sell registered bulls, along with a commercial heifer development program. They also have a diversified cropping operation, including hay, for the cowherd. Although all five of her children help on the ranch, it is Debbie who provides the daily labor. Duane works in town and she said she is "blessed" to have a husband supportive of her passion for ranching. A graduate of Kansas State University, Debbie serves on the board of directors for the Kansas Livestock Association and National Cattlemen's Beef Association and is an active member of the American Angus Association. She authors an online blog, "Life on a Kansas Cattle Ranch," with which she strives to give consumers a glimpse of life on a family farm.
The other four regional winners were Danni Beer, Keldron, S.D., Sherri Lynn Kannmacher, Martinsville, Ill., Sarah Peterson, Niles, Mich., and Delores "Dee Dee" Clements Darden, Smithfield, Va.