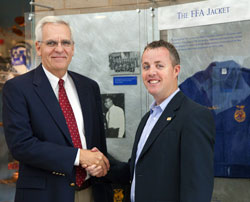 Following the successful live broadcast of its 2011 National FFA Convention, the National FFA Organization has decided to take up permanent residence on the iHigh.com platform with its own channel. Pictured here are Dwight Armstrong, CEO of the National FFA Organization, and Billy Frey, general manager of the Alltech Ag Network.
The FFA Channel, which will be powered by Alltech and iHigh, will capitalize on the latest in Web technology to bring greater unity to their membership base, which is more than a half-million students strong throughout the U.S., Puerto Rico and the Virgin Islands. The ability of a Web channel to provide such a platform was exemplified in the October live broadcast of 2011 National FFA Convention, which was attended by more than 53,000 attendees and joined live on the Internet by an additional 550,000 viewers who would have otherwise missed the experience.
In a nod to social Web trends, FFA has entered into a licensing agreement with Alltech, which will allow an element of personalization for state and local chapters. Each state chapter will have their own site, which may be used to highlight awards banquets and other special events. Likewise, each local chapter will be integrated into their high school's site, creating a platform for the promotion of agriculture with a distinct community-focused tone. Because of the unique business model, all sites have the ability to generate revenue for their organization.