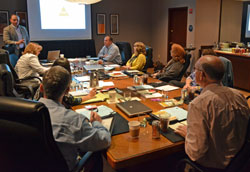 The Executive Committee for the National Agri-Marketing Association has been meeting all afternoon in advance of the 2012 Agri-Marketing Conference. We discussed the strategic plan and how things are going with the core areas for it as well as other business of the organization which will be discussed further in tomorrow's board meeting.
It's time now for NAMA leaders to freshen up before meeting the students who are all here getting started on their marketing competition. I've already seen a number of good friends and NAMA colleagues and can't wait for the rest of the NAMA games to begin!
Remember to use the conference hashtag in your tweets – #NAMA12.
We'll be collecting photos to the 2012 Agri-Marketing Conference here: 2012 Agri-Marketing Conference Photo Album