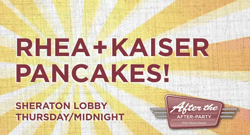 Pancakes and Flapjacks are the specialties of Chef Ray. He says they are not the same thing. They are on the menu for the Rhea+Kaiser After the After Party this coming Thursday night, or morning, depending on your definition. Watch below if you have not met Chef Ray yet.

Here's a little info about Ray:

I'm Ray. Work? Not really into it. But, I do own the Kaiser Roll Diner. And, I'm the resident chef @ the 2012 NAMA Pancake Breakfast..after the AFTER party (Brownfield's shindig). Midnight. 4/19. Be there. Don't make me come after you.