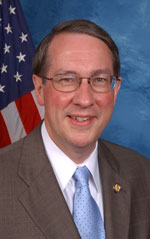 Virginia Republican Congressman Bob Goodlatte is the latest recipient of the American Farm Bureau Federation (AFBF)'s highest award to members of Congress.
AFBF presented Rep. Goodlatte with the "Golden Plow" award last week for his long-standing support of America's farmers and ranchers. The award was presented by AFBF President Bob Stallman and Virginia Farm Bureau President Wayne Pryor during an event in Harrisonburg, Va.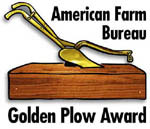 Stallman noted that Congressman Goodlatte "has set a solid example of the courage required to rein in government spending" and "is a vigorous defender of private property rights, both real and intellectual, and he continues to lead the fight against regulatory overreach."
According to Stallman, since Goodlatte was first elected in 1992 to represent Virginia's 6th Congressional District, he has "applied his common sense, expertise and determination to finding solutions to the challenges facing American agriculture."
Since coming to Congress, Goodlatte has served on the House Agriculture Committee and also serves on the Judiciary and Education & Workforce committees—assignments where he has worked on a number of issues facing farmers and ranchers. The Virginia Farm Bureau nominated Goodlatte for the award.