Total Grain Marketing (TGM) handled 70 million bushels of grain at its 31 locations in Illinois last year and this year is likely to be even more.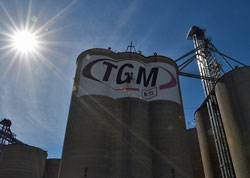 During the recent GROWMARK media tour, we visited TGM and South Central FS in Casey (that's pronounced Cay-zee) and learned about that facility in particular which was created when the two entities joined in 2010 as part of the GROWMARK and FS member companies partnership that was started in 2006.
"We have an 8 million bushel elevator, it is on the CSX railroad, we are a 90 car unit train express load shipper, and handle about 16 million bushels of grain a year," South Central FS CEO Randy Handel said. That express loading process can rival a pit stop in the Indy Car Series. "We have 15 hours from when the train comes to load it, grade it and put the train back together and have it ready for the CSX to take," he says, noting that they can load 1,000 bushels a minute – or 90 cars in six hours or less.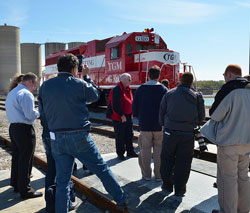 Randy says the venture between South Central and TGM has been very successful. "It's been a win-win for our local grain producer in that it has helped enhance their margin, it's been profitable for us as a company, but we're a local cooperative so in turn it's profitable for our owners and members," he said. Most of the grain goes to the southeast to the poultry market and ADM and Bungee on the bean market.
We also got to visit the brand new GROWMARK-owned fertilizer facility on the same site. "It is a 25,000 ton dry fertilizer blend facility and a 10,000 ton solution facility and this is the first spring we are using it," Randy said. The fertilizer facility also benefits from being right on the rail line. "It's a very good location being on the CSX track and it's good sharing the resources with our grain elevator and it's a very strategic location."
Listen to my interview with Randy Handel here: South Central FS CEO Randy Handel
See more photos from the TGM visit here: GROWMARK 2012 Media Day