Since I've been seeing more and more interest in Pinterest in the AgWired community lately, the release about the Kodak Gallery mobile app being able to share photos to the popular social media site caught my eye. I visited with Trent Gruenwald, Sr. Product Manager, Social & Mobile Products for Kodak Gallery to learn more about it.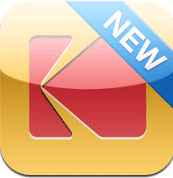 Trent says the app is available for both iPhone and Android. It allows you to upload photos from your smart phone, view all your Kodak Gallery photos, share your photos either individually, by photo album or group sharing. He says they are continuing to update the app based on feedback from users. Right now the new update is sharing to Pinterest which is only available for Android. It will be available for iPhone in the future. Trent says the Kodak Gallery app tries to combine all the different features you can find individually in other apps. One of the upcoming updates for the iPhone version will be the ability to print your photos.
AgWired fans know I'm a power user of Flickr and I don't see that changing. However, I can see this app being very appealing to the agricultural community. For example, organizations running events might want to consider using it to create a shared photo gallery that allows attendees to add their photos.
Listen to this week's ZimmCast here: An Interest in Pinterest

KODAK Gallery is the leading online destination for storing and transforming photo memories—at their most life-like best—into a more high-profile part of people's everyday lives and environments. Anyone can express their creativity by making a wide variety of personalized gifts such as photo books, greeting cards, and wall décor for themselves and others to enjoy. It's also easy to share creative projects with friends and family through direct access to social media including Facebook, Twitter and many others.
In June 2001, KODAK, the world's greatest and most trusted photography company purchased the groundbreaking Berkeley-based company, Ofoto which was founded in 1999. KODAK's legacy of quality goes into every item that KODAK Gallery produces. We provide the same outstanding service and quality that KODAK customers have come to know and trust.
KODAK Gallery is a wholly-owned subsidiary of Eastman KODAK Company.

Thanks to our ZimmCast sponsor, GROWMARK, locally owned, globally strong, for their support.
The ZimmCast is the official weekly podcast of AgWired. Subscribe so you can listen when and where you want. Just go to our Subscribe page.