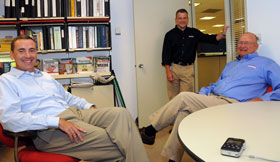 I just learned that Loren Kruse, Successful Farming Editor in Chief, is retiring. Here's Loren seated on right with Scott Mortimer and Curt Blades during a visit I made to Meredith headquarters in the fall of 2010. That was when the company had just announced a major rebuild of Agriculture.com. You can still listen to our interview about that here: Interview with Scott Mortimer and Loren Kruse
So who will be the next Successful Farming Editor in Chief?

Meredith Corporation (NYSE:MDP; www.meredith.com) announced today that Loren Kruse, Editor–in-Chief of Successful Farming, will retire on September 13.
During Kruse's tenure, he consistently enhanced Successful Farming's relevance through the roaring agricultural economy of the 1970's; the farm crisis of the 1980's; and today's current agricultural boom economy. He was instrumental in the launch of Meredith Corporation's first website, agriculture.com, in 1995, and supervised the creation of Successful Farming's first TV programs, "Living the Country Life" and "The Machinery Show."
"I have enjoyed a fantastic career at Meredith and have been proud to work for the publication that founded this great company. Each day, I strived to build upon what E.T. Meredith created in 1902," said Kruse. "The agriculture industry is a dynamic, important industry, and I've been dedicated to bringing the very best to our audience over the past 30 years."

Kruse joined the editorial staff of Successful Farming as Senior Farm Management Editor in 1976 and was named Editor-in-Chief in 1989. He served with distinction, making countless contributions to Successful Farming and agriculture for 36 years.
A Wildcat through and through, Kruse earned Bachelor of Science degrees in Technical Journalism and Agricultural Economics from Kansas State University in 1970. He was honored in 1993 as a K-State Alumni Fellow for the College of Agriculture, and in 2007 named the K-State College of Agriculture Distinguished Alumnus.
After leaving Kansas State, Kruse began his agricultural journalism career in 1970 as Extension 4-H Editor at Oklahoma State University. While there, he earned a Master's of Science degree in Rural Adult Education from Oklahoma State.
"During the many years I have had the privilege of working with Loren, I have always admired his commitment to editorial integrity, his focus on service journalism and his drive to always doing what was right for the reader," said Tom Davis, Vice President and Group Publisher for Meredith's National media Group. "He excelled at making Successful Farming timely, relevant and well-positioned to help American farm families be successful."
Kruse currently serves on the advisory council of the College of Agriculture for Kansas State University and is President of the Education Foundation of the Ankeny Christian Academy. He is a past Chairman of the Board of Living History Farms and a past President of the Boards for the Iowa Christmas Tree Growers Association, Iowa 4-H Foundation, and the Education Foundation of the National Alpha Gamma Rho Fraternity. He has served as Vice President of the Fellowship of Christian Farmers International and past Chairman of the National Science Foundation's committee for the National Agro Knowledge Center.
Kruse and his wife, Elizabeth Anderson, have a son John, 20 and a daughter Kate, 18. The family owns a crop, livestock, and Christmas tree farm in Grundy County, Iowa. The family resides in Ankeny, Iowa.
A nationwide search for the new Editorial Content Chief for Successful Farming is underway.