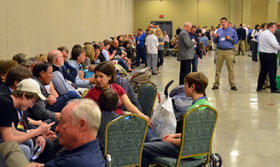 We just got the All Clear on a tornado warning that happened at about 3:45pm. I was in the trade show area when it happened. I certainly hope the tornado that was sighted caused no damage or injuries. We've got some severe weather still on the outlook for later today too.
Everyone got herded into a very large and empty basement level ballroom in the area near the trade show. I had to risk the hotel staff wrath to go get my computer out of the media room so I could get this posted. Unfortunately, they said this will probably happen again this evening. We've got that to look forward to. Now it's reception time!
You can hear the warning here: Gaylord Opryland Commodity Classic Tornado Warning
It looks like we have a lot of Midwesterners here as you'll see in the video clip from the trade show floor. We're kind of used to this sort of thing.
2012 Commodity Classic Photo Album
Coverage of the 2012 Commodity Classic Show is sponsored by BASF and New Holland