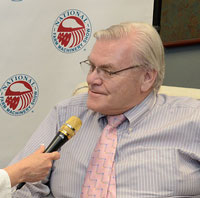 It was an unexpected pleasure to see Harry Siemens and his lovely wife Judith at the National Farm Machinery Show last week. Harry was one of the very first contributors to AgWired with his "Siemens Says" column, starting way back in September of 2005.
He has been keeping plenty busy these days with a variety of freelance gigs sharing his Canadian commentary with audiences all over North America. "I'm in my 41st year as a farmers' advocate in Manitoba, Canada," he says. Among his many activities, Harry appears regularly with Max Armstrong and Orion Samuelson on RFD-TV's 'This Week in Agribusiness' giving his unique Canadian perspective. He can also be heard regularly on the Linder Farm Network in Minnesota and that was how he happened to be at the NFMS this year, replacing Lynn Ketelson as the host of a bus tour for 49 Minnesotans.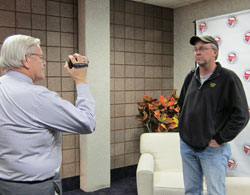 Harry's relationship with Max and Orion and Lynn goes back to 1978 when he took a trip to Minneapolis to meet the late farm broadcast legend Maynard Speece of WCCO to ask him what he could do to become a better broadcaster. "He says 'Join the National Association of Farm Broadcasters of America,'" Harry recalls. "That fall I was at the meeting and for the next seven meetings." And that was where he met Max and Orion and Lynn and "all the good people there."
As a communicator, commentator and journalist, Harry has been quick to adopt new communications technology and the use of social media. He's on Twitter and has his own blog "SiemensSays.com" where he posts regular news and commentary – like the video he did with fellow bus traveler Machinery Pete at NFMS. He says he also uses his iPhone to do interviews, take photos and shoot video.
Find out more about Harry in my interview with him from NFMS: Harry Siemens Interview
2012 National Farm Machinery Show Photo Album
Coverage of the National Farm Machinery Show is sponsored by Fastline AgRacer FMC New Holland