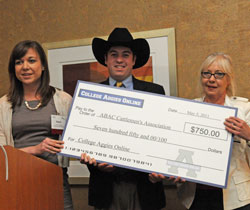 The winner of the College Aggies Online scholarship competition is Abraham Baldwin Agricultural College, represented at the Animal Agriculture Alliance Stakeholders Summit by Jacob Nyhuis. In the photo Jacob is accepting the school's $750 award. The award also included his costs to travel to the Summit. I interviewed him after the presentation and you can hear him talk about participating in the program below.
College Aggies Online is a joint program between the Animal Agriculture Alliance and the American National CattleWomen, Inc. The goal is to help college students utilize social media tools to share agriculture's story. The program was started last fall and has attracted 600 college students from more than 50 universities

Members have earned points by posting blogs, photos and videos related to agriculture and by participating in Aggie Homework agriculture advocacy challenges via Twitter, Facebook, and e-mail.
With 765 total points, the individual high score went to Jessie McClellan of the Casper College Ag Club in Wyoming. She will receive a $250 scholarship. Jacob Nyguis of Abraham Baldwin Agricultural College in Georgia came in second place with 655 points and will be awarded $100.
Members of Abraham Baldwin Agricultural College's Cattlemen's Club formed the top-scoring club with 3,030 points. The group will receive a $750 scholarship and a trip to Washington, D.C. for one representative to attend the Alliance's Stakeholders Summit in April. Casper College's Ag Club came in second place with 2,525 points and will receive $300. Other high-scoring schools included Pennsylvania State University, Western Kentucky University, and the University of Missouri.

You can listen to my interview with Jacob here: Jacob Nyhuis Interview
Animal Ag Alliance Stakeholders Summit Photo Album