File this under "Former intern does even better."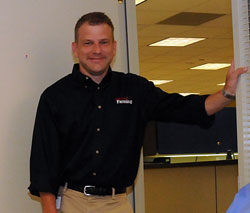 Successful Farming magazine has promoted Curt Blades to national sales manager. In his new role, he will oversee and lead all advertising sales initiatives and research activities for the Successful Farming brands, including Agriculture.com and the Successful Farming Machinery Show. He was previously the sales and marketing manager with Successful Farming.
"Curt has a proven track record of providing exceptional customer service and helping bring creative solutions to our marketing partners," said Scott Mortimer, publisher of Successful Farming. "I am very pleased to announce his promotion and look forward to him leading all advertising efforts at Successful Farming." Blades will also continue to oversee the research efforts of Successful Farming, and the new database venture SFMiD.
"We will continue to be the most customer-oriented advertising sales and marketing team in agriculture," said Blades. "I am thrilled to be given the opportunity to serve our customers and internal team in this new position."
As Chuck mentioned in a previous post, Curt started off his career in the agribusiness world as an intern with us at Brownfield Network – many, many moons ago. But, while we keep getting older, he still looks like that fresh-faced college kid to me!