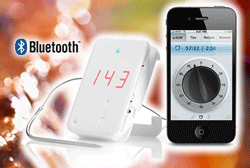 Do you dread the long walk to the cooker or oven just to check on your meat temperature? No longer. Not with iGrill and your iPhone (or iPod Touch or iPad).

iGrill is revolutionizing the way we cook & grill today!
The iGrill combines standard function, technical innovation and impeccable style to produce the most complete cooking thermometer on the market today.
Equipped with long-range Bluetooth®, useful Apps and a range of amazing features, iGrill turns your iPhone, iPod Touch or iPad into your own personal Sous-Chef.