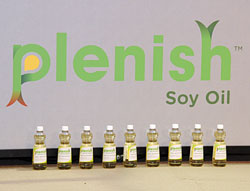 You may not find a bottle of Plenish high oleic soy oil on your local supermarket shelf just yet but that doesn't mean there isn't some taste testing going on. At the Farm Progress Show Pioneer Hi-Bred conducted a cooking demonstration and had samples of food cooked with the product outside their exhibit.

Farmers want a soybean with strong agronomics and increased demand. Enter Plenish™ a Pioneer® brand soybean with an enhanced oil profile and increased oil stability. Plenish™ high oleic soybean oil will have 0g trans fat and 20 percent less saturated fats than commodity soybean oil and 75 percent less saturated fat than tropical palm oil.
There are currently more soybean acres cultivated in North America than any other oilseed crop, making Plenish™ high oleic soybean oil a cost-effective and sustainable trans fat solution.

I learned more about it from Russ Sanders, Marketing Director. He says Plenish represents a significant re-making of soybean oil. They're making it "like olive oil" from the standpoint of taste and health benefits. It will begin appearing in fast food and snack food products in coming years. It will allow labels to carry the no trans fats label. For farmers, Plenish, will come in Pioneer Y Series genetics.
You can listen to my interview with Russ here: Interview With Russ Sanders