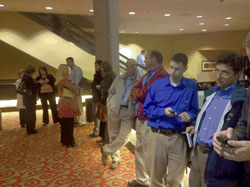 Apparently only some media were allowed to attend a Humane Society of the United States "news" conference this morning in Des Moines, IA. But a post on a Des Moines Register blog says that it was "closed to journalists." Now how can you have a news conference if you don't allow media to attend?
This photo, provided via Facebook and credited to an Iowa Farm Bureau photographer, shows those not allowed in. However, there are already stories on AP and Pork Magazine which I assume means they had someone there? And the Des Moines Register had a reporter doing live tweets from the event. Pretty confusing, eh?
We do know what HSUS is up to and it's part of their tried and true method to drum up sympathy and support. This time they're attacking poultry and egg production. They released a nasty looking video which is supposedly shot by HSUS employees who went to work at two different poultry production facilities for a couple weeks. So, they got jobs under false pretenses. Hmm. Now I should believe what they claim they show? You can imagine how easy it would be to set up the shots you want in order to get an effect even if what the viewer thinks they're seeing isn't real. Not much credibility there, especially when you're a political lobbying organization doing the production! If you have the stomach to watch you'll hear a number of unsubstantiated claims, even with their own production efforts. Pretty pathetic.
To get a much better perspective on the realities of poultry production, especially when it comes to using cages or not using cages, I highly recommend a read of a Des Moines Register guest column by Dean Kleckner, Chairman, Truth About Trade & Technology. He wrote it before today's event. In it he says, "The Humane Society of the United States, however, would like to turn eggs into emblems of cruelty and death." That's got to be a tough goal since eggs really are a well established symbol of life. He goes on to write:

The truth is more complicated. Arizona Republic columnist Linda Valdez visited an egg farm that uses cages. She confessed to thinking that she would see chickens treated "like cogs in an industrial machine." She discovered something different. She described a clean, efficient operation that produces good eggs at a reasonable price.
Then she visited a "cage-free" farm. "Layers of chicken excrement build up on the floor," she reported. This is what the eggs lay in until someone picks them up.
For consumers of eggs, it's a discomforting thought.

For well informed consumers who depend on modern farming production practices for safe and affordable food, the HSUS is a discomforting thought.