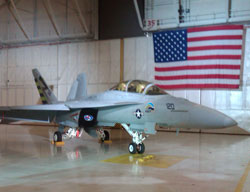 Renewable Fuels Association president and CEO Bob Dinneen was on location at the site of President Obama's speech this morning on energy initiatives for the United States and we were following him on Twitter. The event was held in a hanger at Andrews Air Force Base with the backdrop of a Navy F/A-18 Super Hornet jet that will fly on biofuels on Earth Day.
According to the Navy:

Air Test and Evaluation Squadron VX-23 will be testing the full envelope of the 'Green Hornet' with a drop in replacement biofuel made from the camelina plant in an effort to certify alternative fuels for naval aviation use.
The 'Green Hornet' flight is an important step in the certification and ultimate operational use of biofuels by the Navy and Marine Corps.

The president was expected to announce new energy policies that rely heavily on domestic production of traditional energy sources, including opening up new off-shore oil drilling. However, Dinneen says, "Relying on 20th century energy sources to address 21st century challenges will not solve the problem. America's energy policy must be focused on renewable sources that have great potential for innovation and improvement. Renewable fuels, such as ethanol produced from a variety of feedstocks, hold great promise to reduce our need for imported oil, address climate change concerns, and create enduring economic opportunity. Oil and other fossil fuels are finite resources. While we cannot ignore their contributions, neither can we ignore the reality that reliance on them is simply unsustainable."