Les Yoder is an expert on dairy cattle. His company Homestead Nutrition works not only to help improve the nutritional value of dairy feed, but also works on crop and soil nutrition. I spoke with him during the Ag Associates Conference to learn more about the benefits of good feed nutrition.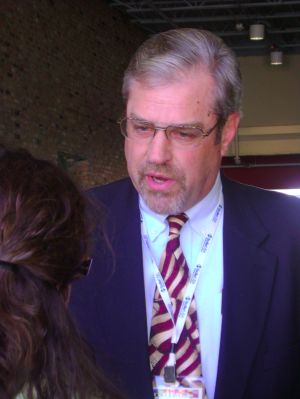 "The forage component of the rations is extremely important to how we're able to balance that program and make that cow very productive while maintaining health and profitability," said Yoder.
The better quality the forage is, the less a farmer has to depend on other things like the purchase of additional feed (corn and soybeans). "Quality forage is extremely, extremely important in a profitable dairy nutrition's diet," he said.
Yoder began using Bio-Forge nearly 10 years ago implementing that product for corn silage for dairy rations and as a result, really started seeing some benefits of improved quality, improved digestibility and improved plant health all of which made a better ration. He also noted that it helped to make a healthier and less expensive diet.
His early successes led him to work more with Stoller to understand the "language of the plant." In other words, learning how to understand how the plant grows, how it reacts to environmental stresses, diseases and insect pressures.
I asked him if he could impart some personal wisdom to the diary farmers across the world, what it would be? He answered, "Anything they do to improve forage quality improves animal health, decreases the need for supplementation and just make a better ration." And a better ration, he concluded, means a healthier cow and a more profitable dairy operation.
Listen to my interview with Les below.