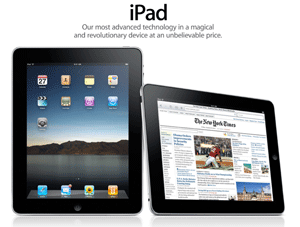 Apple just announced its newest creation – the iPad. There is an agricultural slant to this story. What is it? The continuing development of information technology that's changing the way we market and engage our audience.
I can see me using one of these to participate in AgChat for example. Or do just about anything else I want to do on the web. Will it replace my Mac? No. Do I want one? Yes. I'm on the notification list for when they become available

A large, high-resolution LED-backlit, IPS display. An incredibly responsive Multi-Touch screen. And an amazingly powerful, Apple-designed chip. All in a design that's thin and light enough to take anywhere. iPad isn't just the best device of its kind. It's a whole new kind of device.
The high-resolution, 9.7 inch LED-backlit, IPS display on iPad is remarkably crisp and vivid. Which makes it perfect for web browsing, watching movies, or showing off photos. It's also been designed to work in any orientation — portrait or landscape. And because it uses a display technology called IPS (in-plane switching), it has a wide, 178° viewing angle. So you can hold it almost any way you want, and still get a brilliant picture, with excellent color and contrast.