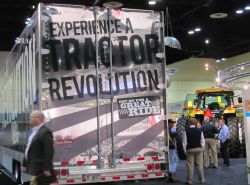 AGCO's Challenger brand is designed for professional producers, those who view farming as a business decision rather than a lifestyle decision. This year, Challenger had two new pieces of equipment on display during the AG CONNECT Expo including the MT600C and the MT595B. Both of these are prototypical equipment of what's to come next explained Allison Bass with AGGO.
Last year the company launched the 600C with E3 technology and this technology has to do with fuel economy and emission reduction. Company expert Phil Jones told me that the E3 technology is important as the whole industry is approaching what's known as Tier 4, which is emission reduction policy. Jones notes that meeting these requirements must be done in a smart way.
"Our path, we believe, is the most farmer friendly way. Farmers absolutely get why it matters, but are also concerned. Their concern is that in every step of the way, they have had to make trade-offs in terms of power, performance, fuel efficiency, and reliability as it relates to things done previously to achieve various tier standards in terms of emissions." Jones continued, "We call this compliance without compromise."
The E3 technology achieves emission reduction while also increasing fuel economy by 15 percent versus where the company and industry were in the past. Eventually the technology will expand beyond their tractor line into combines, other tractors and more.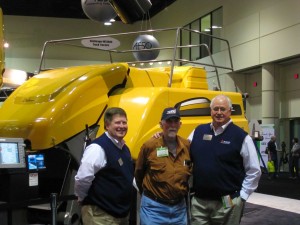 Another product of great interest during the show was the prototype of the Big Biomass Baler. Dean Morrell spoke to me about this cutting-edge piece of equipment. It is designed to be able to take the corn cobs and leaves coming right out of the combine delivering it directly to the baler to make a 3 x 4 Big Bale.
This is a one-pass combine-baler system saving the farmer time and money. Morrell said they call the material it picks up MAWG – material other than grain — and it never touches the ground. Ultimately the bales can be delivered to cellulosic ethanol plants that will convert the MAWG to ethanol. This is exactly what Poet is doing in their Emmetsburg, Iowa plant and Morrell said their Big Biomass Baler was tested in 2009 in conjunction with the Poet plant. (The plant is expected to be operational in 2012.)
Biomass harvesting has been a challenge and Morrell said, "We feel we have the solution to the problem because we have something that they can pick up, move and transport very easily."
The Big Biomass Baler is not yet available and Morrell stressed that they will keep testing it to ensure they concept can do what they say but should be to market within the next several years.
Listen to my interview with Allison, Phil and Dean below.