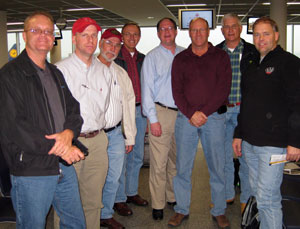 Here is the 2009 U.S. Grains Council Corn Mission team. Ready to rumble in Morocco, Egypt and Jordan. This photo was taken today in Frankfurt airport.
We have arrived at our first Moroccan destination and are getting ready for a meal and initial briefing on our activities. I'll know more in a little while and will be posting some more pics still this evening.
The team includes the following corn growers and USGC Representative. I started them out with a short interview to learn about their farms and expectations for this trip. You can listen to the interviews and download them from the links below.
Mr. William "Sparky" Crossman: Virginia Corn Board: Interview with Sparky: usgc-corn-sparky-1.mp3 download mp3
Mr. James "Jim" Stuever: Missouri Corn Merchandising Council: Interview with Jim: usgc-corn-jim-1.mp3 download mp3
Mr. Robert "Bob" Timmons: Kansas Corn Commission: Interview with Bob: usgc-corn-bob-1.mp3 download mp3
Darren Armstrong: Corn Growers of North Carolina: Interview with Darren: usgc-corn-darren-1.mp3 download mp3
Jerry Griffith: Kentucky Corn Promotion Council: Interview with Jerry: usgc-corn-jerry-1.mp3 download mp3
Mr. Joseph "Joe" Zenz: Wisconsin Corn Promotion Board: Interview with Joe: usgc-corn-joe-1.mp3 download mp3
Mr. Shannon Schaffer: USGC, Director of Membership: Interview with Shannon: usgc-corn-shannon-1.mp3 download mp3
I have started a photo album for the Morocco portion of our mission which you can find with this link: USGC Corn Mission In Morocco Photo Album