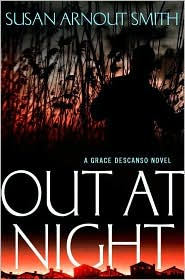 I'm thinking about eating dinner and if I were susceptible to drama then I'd rethink my dinner plans. I just finished reading the novel "Out at Night," a work of fiction by Susan Arnout Smith, that uses genetically modified organisms (GMO) as its basis for murder and mayhem. Now, I don't profess to be able to discern between fact and fancy when it comes to GMO crops, but for the most part, it appears that the circumstances in the book are fancy.
So here's the plot. As the world converges at the largest agricultural convention in Palm Springs, California, a man is murdered and set on fire in a genetically modified soy field that is to be unveiled during the conference. As the story unfolds, there is a crazy environmental organization staging rallies and protests and planning to take down the event during the closing session. But is the murder tied to the environmental organization or is there another factor in play?
Now I must concede that readers of this book will not get unbiased information surrounding GMO crops but much of the circumstances surrounding the plot, for example countries that won't accept GMO crops, are in fact reality. In addition, Smith doesn't portray the work of environmentalists in a positive light -she chooses to portray the most left-wing of the bunch. This in and of itself wouldn't be a problem for agriculture or the environmental movement, but while this is a work of fiction, many readers will take the plot to heart. On the flip side, using the extremes in both industries makes for a more tension-filled plot.
On that note, and being a more educated reader regarding agriculture and the environmental movement than most, the book was a fast-paced thriller and I was entertained from beginning to end. If you can put your personal opions aside on these issues for a few hours, I promise you'll be entertained.