This week's NAMA Trends In Agriculture conference provided a great program opportunity for this week's ZimmCast. You'll get to hear from the morning panel on day two. I interviewed each of them and have included them in the program. The session focused on how agrimarketers are building new community ties.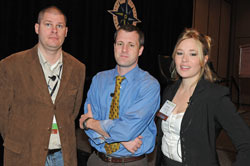 3G-enabled smart phones, the "Tweeting Farmer," and unusual partnerships are all part of the new ag community. This general session will feature practical case studies from marketers inside and outside of agriculture that have forged new links with their customers using new media and non-traditional collaboration. Joe Grigsby, VML, Leslie Bradshaw, a farm kid and University of Chicago educated Communications Manager with New Media Strategies in Washington, D.C., and Joel Jaeger, Commodity Update shared their experiences.

I'd like to thank AgWired Sponsor, Fluidigm, for their support of the ZimmCast. AgWired coverage of the NAMA Trends In Agriculture Conference is sponsored by Paulsen Marketing.
You can listen to this week's ZimmCast below.
The ZimmCast is the official weekly podcast of AgWired. Subscribe so you can listen when and where you want. Just go to our a Subscribe page.