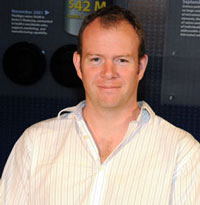 When it comes to research and development at Fluidigm Corporation, one of the key people involved is Andy May. In my interview with him he puts the high level technology Fluidigm develops into easy to understand terms. You'll find out why this is necessary when we get into the whole DNA sequencing issue and how Fluidigm has pioneered some of the latest mechanisms to work with it. Forward a link to the interview to your favorite R&D'er!
Andy says there are two main products they've been developing. One of them is called Slingshot which he says is a very accurate method of measuring concentrations of DNA samples. The other product, which his group is focused on, is called AccessArray which streamlines the preparation of small regions of DNA for sequencing using the current generation of sequencing platforms. He says there has been a huge change in the technology used for DNA sequencing in recent years and people are looking for new ways and improved methods for introducing samples into those instruments. Like the whole Fluidigm System, these products help streamline the work flow and in fact are more production devices than just measurement devices.
The new Fluidigm products have been developed in conjunction with early access clients and several systems have been sold and are now available via general release.
You can watch or listen to my interview with Andy below: