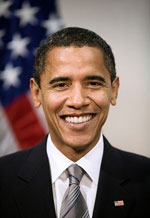 David Bennett with the Western Farm Press just posted this news alert about President Barack Obama signing HR 2997, a emergency stimulus package that could benefit farmers. Here is the most recent news on the topic…
President Obama has signed legislation providing fiscal 2010 appropriations — $121 billion — for the USDA, the Department of Health and Human Services, and other agencies.
The article says that 80 percent of the funds will go to school nutrition programs and food stamps.
Of the remaining HR 2997 funds, slightly over $23 billion will be spread among programs for agricultural research, conservation, food safety, housing assistance and the Food and Drug Administration (FDA). Some $290 million, aimed at helping undergird the struggling U.S. dairy industry, will fund dairy farmers with direct support. An additional $60 million will be used to purchase dairy products for food pantries and nutrition programs.