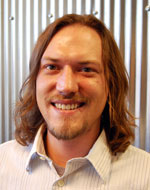 There's a new copywriter at AdFarm. He's Jacob Edenfield.

Jacob has worked on a range of agricultural and business-to-business brands and markets for companies including Monsanto, Intervet/Schering-Plough, United Soybean Board, National Pork Board, Solutia and SFP in his role as Associate Creative Director with Osborn & Barr Communications. His background also includes deep experience across the spectrum of message-delivery tools, including digital and social media.
In his new role with AdFarm, Jacob will be working with clients across the spectrum of agriculture.  In addition to copywriting, Jacob will be a key contributor to AdFarm Teams for strategic and message development, concept development, and brand and campaign work.