Charleston Orwig must have more dairy industry related clients than any other communications agency in the country, which makes sense since they are located literally in the heartland of the state synonymous with dairy production – Hartland, Wisconsin. At World Dairy Expo this year they are working with a number of clients – including Alpharma, Arm and Hammer animal nutrition, Novartis, Dairyland Seed and Hoard's Dairyman.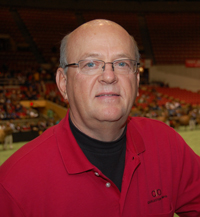 I talked to Lyle, the Orwig of Charleston Orwig, in the agency's suite overlooking the expo arena about their commitment to agriculture and the dairy industry. "When we began with Charleston Orwig, agriculture was a focus for us, we didn't just happen to get a couple of ag accounts and say – oh, let's be an ag agency," Lyle said. "Having grown up on a central Illinois dairy farm, it's important for me personally, as well as the agency to maintain that connection to agriculture and so we have focused on that as we've grown the agency." Lyle says about 85 percent of the agency staff have an agricultural background, either in agribusiness communications or growing up on a farm, or both.
One of Charleston Orwig's specialties is reputation management, which is critical these days in the animal agriculture industry with critics such as PETA and HSUS becoming more aggressive in trying to sway public opinion against livestock producers. "Part of our mission is to help clients tell their story in a positive way and educate consumers on the need to grow crops and livestock for feeding the world as well as the U.S.," Lyle says. Listen to my interview with Lyle below.
Charleston Orwig and two of their clients – Hoard's and Alpharma – are sponsoring coverage of World Dairy Expo this week on our sister blog, World Dairy Diary, and be sure to check out the World Dairy Expo Flickr photo album for all the sights.