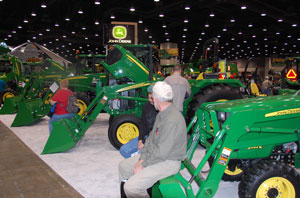 The John Deere 5 Series utility tractors take up a significant portion of the booth space at the National Farm Machinery show and served yet another purpose – as seating for many at the show taking a break from walking around the 1.2 million square feet of exhibit space!
John Deere has introduced a large volume of new tractors this year, ranging from 45 to 105 hp, to fit just about any need. I talked with Keith Hendrix with Deere who told me all about the new tractors that are part of the Drive Green caravan that Chuck has been busy following around the country.
"That ranges from our new 5D series, moving up to the 5E series, and the premium line of the new 5M," Keith explains. "We have a tractor for every application for any specific need if you're looking for 105 down to a 45 engine horsepower tractor."
Listen to an interview with Keith here nfms09-jd-keith.mp3
You can also download the interview here: John Deere 5 Series (mp3).
Check out Precision Pays.com for more coverage of the show this week.
AgWired coverage of the National Farm Machinery Show
is being sponsored today by: