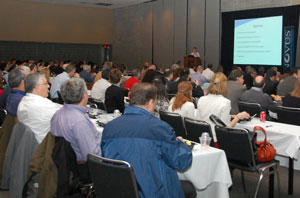 Lunch was on Novus International today at the International Poultry/Feed Expos in Atlanta for the Southern Poultry Scientific Society (SPSS) meeting here. The SPSS meeting is part of the International Poultry Scientific Forum being held in conjunction with all the other poultry and feed events. It's really kind of amazing how many events are going on here around the expos and how many people are already here from all over the world.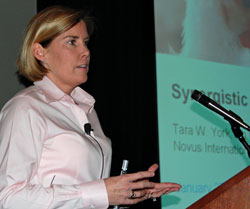 In a relaxed atmosphere, Dr. Tara York with Novus presented some information on the "Synergistic Effects of Nutritional Antioxidants" to about 200 attendees, focusing on vitamin E, selenium, and ethoxyquin (as well as a bunch of other big words that I can't pronounce or spell!!) Novus is pretty much the world leader when it comes to antioxidants for poultry, with over five decades of basic and applied research, development and manufacturing expertise being utilized to develop, manufacture and support multiple lines of nutritional and health products for the poultry industry.
I recorded Dr. York's short and informative presentation that Novus will be using in podcast form. I also interviewed Dr. York about antioxidants, poultry and Novus – you can listen to that interview here: ipe-09-york-interview.mp3
You can also download the interview with this link (mp3).
AgWired coverage of International Poultry Expo is sponsored by: