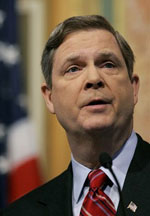 Our new U.S. Secretary of Agriculture, Tom Vilsack, just held his first teleconference and I've got it recorded for you. He makes a short opening statement then takes Q&A from select media who could ask questions (I was not one of them). I was interested in things like biofuels and rural development of broadband internet access. Both are mentioned several times.
He pointed repeatedly to the 2008 Farm Bill as the first place to look for administration support of agriculture and whatever new stimulus plan actually happens second. Of course everyone wants to know who's going to get what money and from where. I'm just wondering where they're going to get all the money to pay for it.
You can listen to Sec. Vilsack's press conference here: vilsack-first-conference.mp3
You can also download it here: Secretary Vilsack Press Conference (mp3)
Post Update: I know you'll be hearing all the pundits (I hate that word) pick this session apart so it'll be interesting to see all the spin. Please feel free to download and use this audio in your podcasts or broadcasts if you would like. I've already been asked. You are always welcome to download and use audio from AgWired. A little credit is always nice too.
I will pick out one sound bite for you which you can find about 18 minutes in to the session. This is one where Sec. Vilsack talks about the importance of good high speed internet access in our rural communities. I think you'll get a sense of how this will continue to be a priority in DC.
You can listen to that soundbite here: vilsack-broadband.mp3