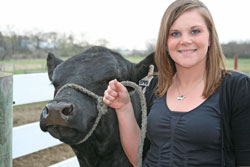 Welcome Amanda Nolz to the AgWired family. Amanda will be posting regularly on AgWired during her final semester at South Dakota State University. She's an ag comm major with a higher gpa than I graduated with!
I met Amanda when she was a National Beef Ambassador. She's passionate about her farm and her animals and you can get a sense of that from her blog. In fact, it was her blogging that caught my attention and gave me the idea to ask her to write about farming, life and agricultural communications from a student perspective.
So please welcome Amanda to the AgWired community. You'll see her posts showing up here regularly, probably starting today.