The Ethanol Promotion and Information Council is inviting NAFB members to get a hat while they're hot.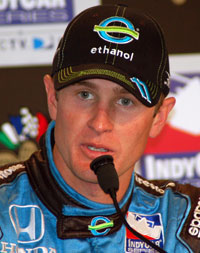 The first 30 farm broadcasters who stop by the EPIC booth at the NAFB Trade Talk to do an interview will receive a limited edition Team Ethanol cap – just like the one Indy car driver Ryan Hunter-Reay is wearing in this photo from the 2008 Indy 500. Ryan drove the Team Ethanol car to its best ever Indy 500 finish this year, and had the first ever victory for Number 17 in July at at the Camping World Grand Prix in Watkins Glen, NY.
EPIC Executive Director Toni Nuernberg will be at Trade Talk to discuss a new consumer survey that shows overwhelming support for biofuels as a way to reach energy independence. She will also be able to talk about EPIC's successful blender pump initiative and how the ethanol industry is faring in the tough economy.
Also on hand at the EPIC booth will be Greg Krissek of ICM, one of the founders of the new ethanol organization Growth Energy. Greg will be able to discuss that topic, as well as any ethanol policy issues and ICM's dry-frac technology.