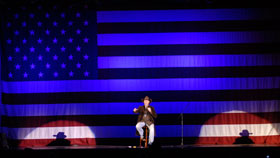 It looks like my friend Michael Peterson, who is a real friend of agriculture, just received a major award from the USO at a ceremony at the Pentagon on Tuesday. This is a picture of him on a "My Real Life, Strong For America" tour stop in Nebraska.

Award-winning country music artist Michael Peterson, a special friend of The American Legion, is being honored with the prestigious Spirit of Hope Award. The award, named in honor of the late radio, television and film star Bob Hope, is bestowed upon Americans who, like Bob Hope, have demonstrated, in the words of award creator, the USO, "tireless dedication to our country and to U.S. troops both in times of peace and war."
Songwriter and recording artist Peterson was nominated for the award by the United States Army in recognition of his youth-motivating "My Real Life, Strong for America" nationwide tours as well as his many visits to entertain troops at military venues. The "My Real Life – Strong For America" tour, which is being presented by the Army and supported by sponsors such as the American Legion, challenges students, civic and business leaders and other community members to engage in building their communities through initiatives and programs employing what supporters consider traditional American values.
The American Legion maintains a close association with the multiple Grammy and CMA (Country Music Association) award nominee. Peterson has performed at annual national conventions of The Legion and acts as spokesperson for the veterans service organization's Legacy Fund. The Legacy Fund provides scholarships for children of military personnel who have lost their lives in post-9/11 conflicts.