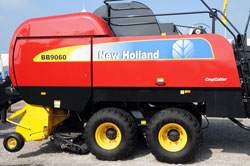 Small square balers aren't the only new balers from New Holland. How about those big square balers?
I spoke with Colin Skoronski in the New Holland exhibit about this big BB9060. New Holland is certainly making some style changes which you can see in the rounded edges for example. Colin says they've made a lot of improvements in this line of balers. One of them is an increase of about 5% in bale density.
When I asked him about feedback he says, "The guys are excited. The hay industry is going well. More and more guys are looking at the productivity of the big square bales." When it comes to service he says, "Top Service is a program that commits to the customer that we will take care of his problem. New Holland is committed to keeping that customer running."
You can listen to my interview with Colin here: fp-08-colin-skoronski.mp3
You can also download the audio file with this link.
Check out our Farm Progress Show 2008 Photo Album.
AgWired coverage of the 2008 Farm Progress Show
is sponsored by:

and