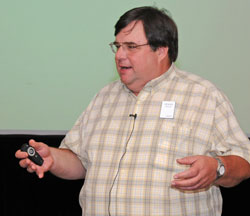 The numbers man on our program at the Boehringer Ingelheim Swine Health Seminar was Dennis DiPietre. He specializes in consulting with the swine industry and is a "headliner" for SwineCast.
Dennis was here to look at trends that are developing like the shifting global marketplace. He sees changes happening in the advantages producers have had in both the low cost of feed stuffs and the intrusion of governments that are taking away feed stuffs for other purposes like biofuels. When it comes to handling diseases, he says BI has had some spectacular success with some like Circovirus which is extremely devastating not only due to economic loss but also since it's so demoralizing. Until recently there was nothing that could be done. He also is seeing an increase in concerns for the welfare of the animals.
When it comes to what producers are talking to him about, he says it's mostly the high cost of feed grains. He says, "We really have record high pork prices right now but it doesn't necessarily mean there's profits in the industry." He says it's a very unusual time. So going forward he says the name of the game is "risk management." Producers want to protect a margin regardless of the level of prices.
You can listen to my interview with Dennis here: bi-nc-08-dipietre.mp3