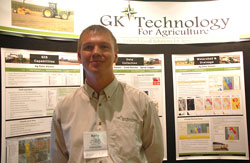 If you want application maps for your fields, then you might want to consider GK Technology for Agriculture. Kelly Sharpe is an agronomist for GK and he says his company offers a full service GIS package to growers. What does that mean exactly? Kelly says GK is able to take yield data and convert them into application maps that can then be used to write prescriptions for pretty much any controller out in the market. The best part, Kelly says, is GK works extremely well with satellite images – something he says most of GK's competitors, well, can't.
"We're able to take data from just about any source available," Kelly said.
Kelly says GK's GIS package allows farmers to practice site-specific agriculture. The company's services are a key element, he says, in precision farming. Kelly adds that GK understands it's "all about the money" for farmers. He says that's why GK is committed to keeping precision farming as low cost for the farmer as possible.
I spoke with Kelly about what GK Technology can do for growers. You can listen to my interview here:
kelly-sharpe-preag-08.mp3