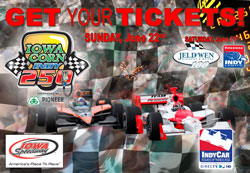 It looks like the flooding in Iowa has not affected things at the Iowa Speedway where I'm headed this afternoon for pre-race activities for this weekend's Iowa Corn Indy 250.

Iowa's flooding disaster is not directly affecting scheduled events for the IndyCar Series weekend, June 20-22, at Iowa Speedway. The facility has immediate access to I-80 and is located on elevated ground near an adjacent airport. Racing fans who plan to attend the Iowa Corn Indy 250, especially those out-of-state, are encouraged to proceed with plans to attend the event.

Over the next several days I'll have some stories here, but mostly on our Domestic Fuel site. Our coverage of the activities is once again sponsored by the Ethanol Promotion and Information Council.