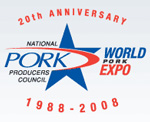 Some of our farm media friends have requested that we supply downloadable audio from World Pork Expo – so here are some files for your use. I just forget to do that now because it is so great to have the player that plays the audio immediately off the server.
OK, let's start with the interview from NPPC president Bryan Black:


Bryan Black Interview (10 min MP3)
Rather than the entire Chuck Conner speech – here is audio from the press gaggle with Conner:


Conner press gaggle (13 min MP3)
Here is audio with former NPPC president Joy Philippi (pronounced PHIL-i-pee) of Nebraska, co-chair of the Farm Bill Policy Task Force, on what is in the farm bill for pork producers – and what isn't:


Joy Philippi (10 min MP3)
Here is an interview with Dan Meagher of Novus International – you can thank them for the audio!
(He pronounces his name and gives his title at the start of the interview)


Dan Meagher (7 min MP3)
All photos in the Flickr set are available in hi-res versions. Just click on the photo and choose the size options. Just another service of Agwired, courtesy of Novus International. Please email me – cindy@zimmcomm.biz – if you need anything else.
AgWired coverage of World Pork Expo is sponsored by: