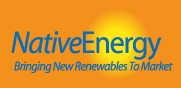 Pennsylvania is honoring a family farm operation that has developed a new "manure digester." The farm developed the new system in collaboration with NativeEnergy. The project is meant to help residents will breathe easier with cleaner air.
High quality carbon offsets provider NativeEnergy is proud to announce the Brubaker Farms' family dairy farm methane project, a new anaerobic digester/generator system built in reliance on carbon offset funding provided by NativeEnergy and grants from the State of Pennsylvania and U.S. Department of Agriculture. During the official dedication ceremony at Brubaker Farms on April 16th, Pennsylvania Senator Mike Brubaker*, along with representatives from the PA Department of Agriculture and Environmental Defense, will acknowledge the importance of investing in new family farm energy projects. The day's events will include tours of farm facilities, which illustrate the collaboration of resources essential to the renewable energy project's success.
"Investing in the construction of high quality, family farm renewable energy projects is a powerful step in the fight against global warming that more and more people can support through our carbon offsets," says Tom Boucher, President and CEO of NativeEnergy. "Since methane has 21 times the global warming impact of carbon dioxide, new family farm projects represent real, effective solutions to the climate crisis."
Today, with it's new anaerobic digester the 1,500 acre family farm is producing enough energy to power and heat most of its operations; reducing the family's reliance on grid-supplied electricity and propane, and the environmental impact of fossil fuel sources.