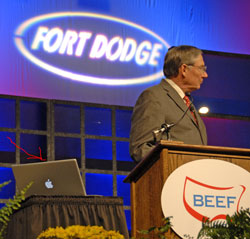 I couldn't let this opportunity to promote Apple Computers go by. Not getting paid for this either.
Here's a picture from the opening general session today. Nice product placement I'd say. That lit up Apple icon sure stands out.
I also saw more Macs in the news center than I've ever seen before and Evan Slack isn't even here yet.
I think that the more I use my Mac the more I'm convinced that I won't go back (to a pc).