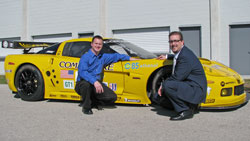 We keep hearing about cellulosic ethanol and how close some companies are to actually producing it. Well for KL Process Design Group that day is here. Today they made a major announcement in Sebring, FL (which we're helping get out to farm media) in conjunction with the Ethanol Promotion and Information Council and the American LeMans Series. Pictured are (l-r) Reece Nanfito, EPIC and Tom Slunecka, KL Process Design Group.

In a technological breakthrough for both renewable fuels and racing, cellulosic ethanol will be used for the first time in motor sports this year, paving the way for the biomass fuel to be used commercially.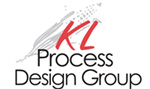 KL Process Design Group of South Dakota will supply the American Le Mans Series with cellulosic E85 racing ethanol for the 2008 season. The fuel, produced from waste wood, will be used for the first time during the season opener — Mobil 1 Twelve Hours of Sebring on March 15. Corvette Racing will be the first team to use the cellulosic-based flex-fuel ethanol in competition.
You can hear a sound bite from their press conference (Tom Slunecka) here: epic-cellulosic-release-slunecka-1.mp3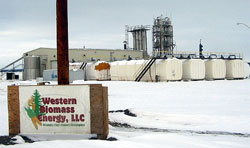 KL Process Design Group announced the production of cellulosic ethanol at their first plant in a separate release today as well.

In a development that could dramatically advance the renewable fuels industry, cellulosic ethanol is now in production at the first small scale waste wood commercial facility operating in the U.S. Located just 1 mile South of Upton, Wyoming, the plant was engineered, constructed and is operated by KL Process Design Group (KL). This is the result of six years of development efforts between KL and the South Dakota School of Mines and Technology.