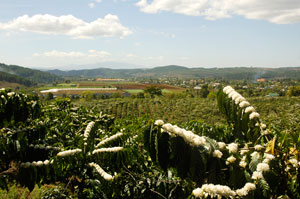 As I mentioned before, I haven't quite made it back to the States yet after traveling to Germany in November (where I covered the Agritechnica farm equipment show in Hanover). For the last month and a half or so, my travels have taken me throughout much of Southeast Asia. I have already posted pics from when I stumbled upon a New Holland outlet in Chiang Mai, Thailand. But, now, I thought you might be interested in a trip I took through the mountainous terrain of central Vietnam.
Five days, three travelers, two motorcycles and one guide exploring the fertile hills of the Truong Son mountains. Within minutes, we were well into the heart of Vietnamese agriculture. The first breathtaking panorama we laid eyes upon was a lush valley of coffee plantations that were speckled with palms. I'll be honest. I had no idea what a coffee plant or a coffee blossom looked like before this trip. I can tell you now though that these plants are a huge and definitive part of the stunning landscapes in the central highlands of Vietnam.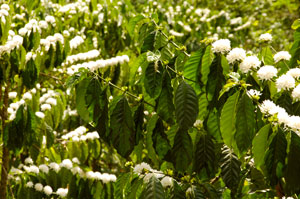 The coffee isn't to be missed either. Having lived and worked in Rome, Italy, I've had my fair share of strong, quality coffee. Vietnamese coffee is the first I've tasted that might rival that of the Italian espresso. It's strong, rich and just a touch bitter. I've come to rely upon my morning cup (or cups rather) to get me energized for my non-stop traveling. The best part is the coffee is traditionally served with a small filter on top of your glass. The filter is filled with coffee grounds, which are slightly pressed. Then, water is poured on top and you have to patiently wait… watching the water turn dark brown and drop through to your glass. Finally, when all the water has seeped through the grounds and into your glass, you can remove the filter, add sugar to taste and enjoy!
I have TONS of photos to sort through… but, there's definitely more to come about the central highlands of Vietnam!