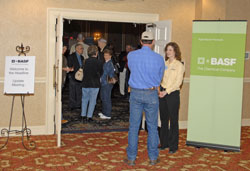 What better way to kick things off at the Beltwide Cotton Conferences than having lunch with your sponsor?
Right now a large group of consultants is having lunch at the BASF Consultants Information Session in the good old Opryland Hotel. The first fungicide registered for cotton is Headline and that's basically the news headline here at this session.
We've got three presenters today and I'll be posting interviews with them here shortly.
AgWired coverage of the Beltwide Cotton Conferences
is made possible by: