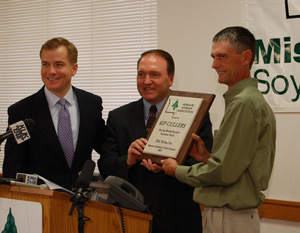 Missouri soybean grower Kip Cullers beat his own world record by 15 bushels this season to once again claim the title of soybean champion. Cullers produced an outstanding 154.7 bushels per acre on his southwestern Missouri operation, compared to last year's 139.9 bushels and he believes he could do even better.
"200, 250 – it's totally possible. The genetics are there, we just need to figure out how to do it," Kip said.
The average yield per acre in Missouri last year was 38 bushels per acre. "So, as you can tell, Kip's doing a little bit better than that," said Missouri Soybean Association executive director Dale Ludwig.
Cullers was honored by Missouri Governor Matt Blunt who made the official announcement during a media event at the Missouri Soybean Association office in Jefferson City. He called Kip the "Babe Ruth" of soybean producers.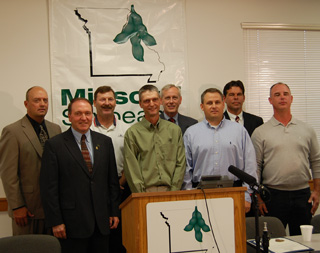 "Kip is setting records because he knows his business as well as anyone and works diligently to cultivate not just high yields, but record-breaking yields," the governor said.
Cullers credited his success to a soybean dream team of professionals who helped him with his contest plots, including experts from Pioneer and BASF. He accomplished his record-breaking production by planting Pioneer® 94M80 soybeans on an irrigated and conventionally-tilled field and he used BASF Headline fungicide to protect against disease pressure. He also used Syngenta Warrior insecticide, Optimize technology from EMD Crop Bioscience, and a Monosem twin row planter.
Listen to Blunt's announcement here:
soybean-winner-blunt.mp3
Listen to some of Kip's remarks here:
soybean-winner-kip.mp3