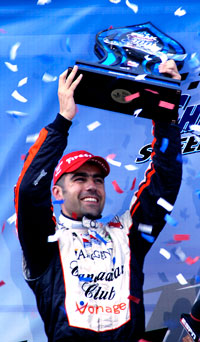 Well, the 2007 IndyCar series is over and as we've been saying all season, "ethanol won." I hope you had a chance to watch some of Laura's coverage over on Domestic Fuel. She did a great job posting 31 times with most posts containing interviews. She's also got 179 photos online in her photo album. Thanks to the Ethanol Promotion and Information Council for once again sponsoring our event coverage.
Obviously she was in victory lane after the race too. Here's her take on the winner:

Just one word is fitting for Canadian Club Driver Dario Franchitti: Champion. Dario cinched the the 2007 Peak Antifreeze Indy 300 after Scott Dixon fell behind the Scottish driver in the last few hundred feet of the race after racing with Dario neck and neck. The win also secured Dario the 2007 IndyCar Series Title. The Andretti Green Racing teammate also won the Indy 500, the Iowa Indy 250 and the Richmond Indy Challenge, where he set both a track record and an IRL record. Rumor has it Dario will be switching to stock cars next season. A report on Yahoo.com confirms that sources say Canadian Club will replace Coors Light as the sponsor for Ganassi's No. 40 Dodge in NASCAR and Dario will make the switch with Canadian Club. After winning the Championship Sunday, Dario consistently dodged questions about the move.
Listen to a clip of Dario's comments at Victory Lane here:
Franchitti_Dario2.mp3
Listen to Dario's comments about the race here:
Franchitti_Dario.mp3