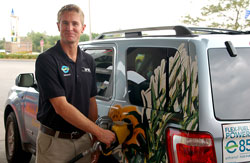 Those of you who've been keeping up to speed with the Indy Racing League know that the league is rounding out its 2007 season at the Chicagoland Speedway in Joliet, IL this weekend. I'm here at the track covering the close of a landmark year for Team Ethanol and the Ethanol Promotion and Information Council. All IndyCars have been running on 100% ethanol fuel throughout the season. It'll be interesting to see how the league, Epic and the IndyCar drivers finish up the the first fully-powered ethanol season.
If you want to keep track of my coverage you can find it on energy.agwired.com.
Thursday EPIC held another ethanol pump promotion to educate consumers about E10 and E85 ethanol fuel blends. Team Ethanol's new IndyCar Driver Ryan Hunter-Reay greeted consumers at Gas City in Joliet and doled out autographs and even a couple of race day tickets.
You can listen to my interview with Ryan here:
Hunter-Reay_Ryan.mp3