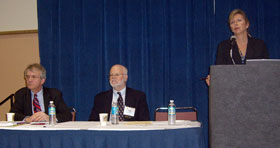 Kind of sounds like a new Robert Ludlum novel doesn't it?
It's actually a Commodity Classic Learning Center session on "Perspectives on the 2007 Farm Bill" that was sponsored by John Deere. Sara Wyant, Agri-Pulse Communications, was the moderator of a panel on this subject that featured Mark Halverson, Democratic Staff Director and Chief Counsel for the Senate Committee on Agriculture, Nutrition and Forestry and Chip Conley, Former Senior Economist, House Agriculture Committee.
I'm not even going to try to summarize their comments. That's why I record these interviews! I interviewed Sara afterward to find out what these experts see for the coming farm bill, especially as it relates to the three commodity groups meeting here.
Listen to my interview with Sara here: cccast-23-wyant.mp3
This interview is part of the CommodityClassicCast podcast series.
AgWired coverage of Commodity Classic
is made possible by:

and