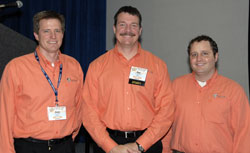 Pictured here are Gary Schmitz, Dan Westberg and Leon Duchene. They were the team giving the BASF WIN session. WIN means "What is New."
What is new from BASF is Status herbicide for corn, giving growers a new option in post-emergent broadleaf weed control. I interviewed all three guys to get the story on this new product from BASF. If you want to learn more about it they have a website dedicated to Status.

BASF is setting a new standard for post-emergent broadleaf weed control in corn with Status herbicide. Growers were able to learn more about this new premier herbicide during the BASF What Is New session Friday at Commodity Classic. "Status offers growers a new level of confidence in their weed control by controlling a broad spectrum of weeds while offering them superior crop safety," said Leon Duchene, Status Product Manager, BASF at the session.
Not only does Status deliver superior control and excellent crop safety, it also provides simplicity. Dan Westberg, Ph.D., Technical Marketing Manager, BASF, told the crowd of more than 50 growers that "Status controls even the toughest yield-robbing weeds such as waterhemp, kochia, morningglory, Palmer amaranth, common and giant ragweed and common lambsquarters."
Gary Schmitz, Ph.D., Midwest Technical Service Manager for BASF, reviewed university trial results and use recommendations for Status herbicide. This included recommendations for conventional corn and Roundup Ready corn as well as the flexibility to be used in a sequential application or a total post treatment.

I also learned that they are not wearing pink. The shirts are "man-salmon" colored.
Listen to my interview with Gary here: cccast-20-schmitz.mp3
Listen to my interview with Dan here: cccast-21-westberg.mp3
Listen to my interview with Leon here: cccast-22-duchene.mp3
These interviews are part of the CommodityClassicCast podcast series.
AgWired coverage of Commodity Classic
is made possible by:

and